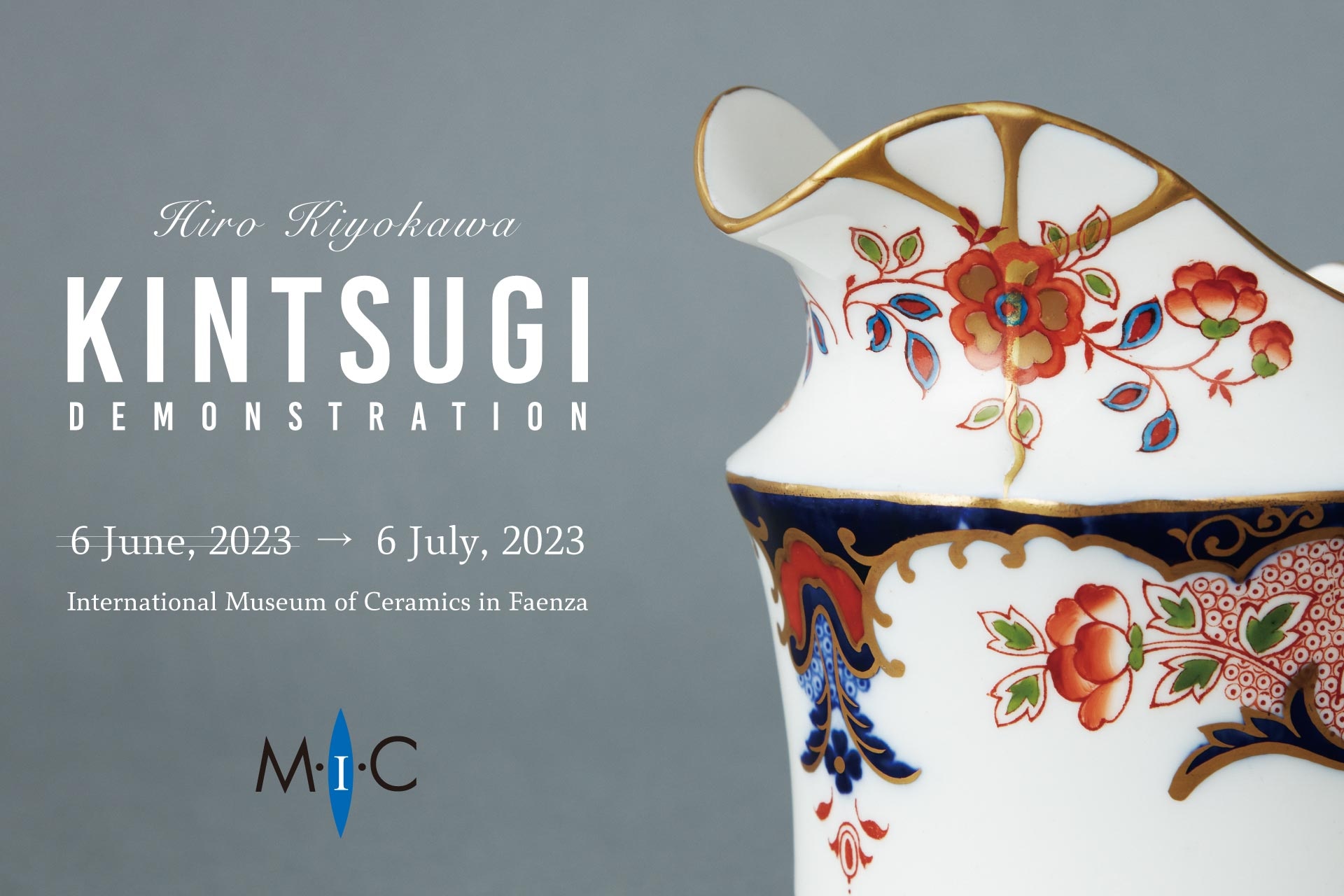 [Notice!] The performance was postponed to 6 July .
------ 3 June up -----

Heavy rains in Emilia-Romagna, Italy caused flood damage in a wide area including Faenza. As a result, the performance at Faenza MIC, which was scheduled for June 6th, has been postponed to July 6th, one month later.
イタリア・エミリアロマーニャ州の豪雨によりファエンツァを含めた広域に洪水被害が発生しました。それに伴い6/6に予定しておりましたファエンツァMICでの公演が1ヶ月後の7/6に順延されました。
Kintsugi Demonstration and Lecture
⾦継ぎデモンストレーション&講演
Demonstration and lecture to be held on the 6th June, Tuesday 2023 at International Museum of Ceramics in Faenza, Italy.
The process of Kintsugi will be introduced with demonstration and images and the lecture will cover the history, its profound charm and characteristics of lacquer, indispensable for Kintsugi by Kiyokawa himself.
2023年6月6日(火)16:00−18:00に、ファエンツァ国際陶磁器美術館様にて金継ぎのデモンストレーションおよび講演を開催いたします。
デモンストレーションでは、⾦継ぎのプロセスを清川本⼈による実演と映像を交えてご紹介する他、⾦継ぎに⽋かせない⽇本の漆、その歴史と特徴や、⾦継ぎの奥深い魅⼒について講演いたします。
Craftsmanship and sustainable Kintsugi, restoration using only natural materials 
職⼈技術と⾃然素材のみで修復するサスティナブルな⾦継ぎ
Kiyokawa has been in the front line of craftsman, restore shrines, Buddhist temples, wooden sculptures and culture properties for nearly 50 years and nowadays he is one of the few successors who pass on traditional lacquer restoration technique to the present and into the future.
Since 2015, Kiyokawa has been shifted to teaching Kintsugi, one of a traditional Japanese technique, Japanese lacquer art which was born in culture of the tea ceremony about 500 years ago to the general public.
Currently he has Kintsugi class, teaches classical Kintsugi, using only natural materials and his atelier in Kyoto and Tokyo.
On the one hand, Kintsugi is not only adds value and new aesthetic sense to damaged vessels but also brings these precious vessels back to daily life.
This sustainable Kintsugi is attracting attention and booming in Japan and other countries, Asian and Europe.
清川は50年近く社寺仏閣や⽊像などの⽂化財の修復の第⼀線に⾝を置き、古典的な漆芸修復の技法を今に伝える数少ない職⼈の1⼈です。
そんな清川は、2015年から広く⼀般に伝統技法を伝えるために約500年前に茶の湯⽂化の中で誕⽣した漆芸修復の1つである「⾦継ぎ」にシフトし、現在は京都・東京で⾃然素材のみを使⽤する古典的な⾦継ぎを教える教室兼⼯房を構えています。
⼀⽅、⾦継ぎは破損した器に新しい美意識や価値を持たせるだけでなく、⼤切な器をまた⽇常に戻すことのできるそのサステナビリティが注⽬され、⽇本国内だけでなくアジア・欧⽶各国で今ブームが巻き起こっています。
International Museum of Ceramics in Faenza
Viale A. Baccarini n. 19
Faenza, RA 48018 Italy
Tell : +39 0546 69 73 11
Email : info@micfaenza.org