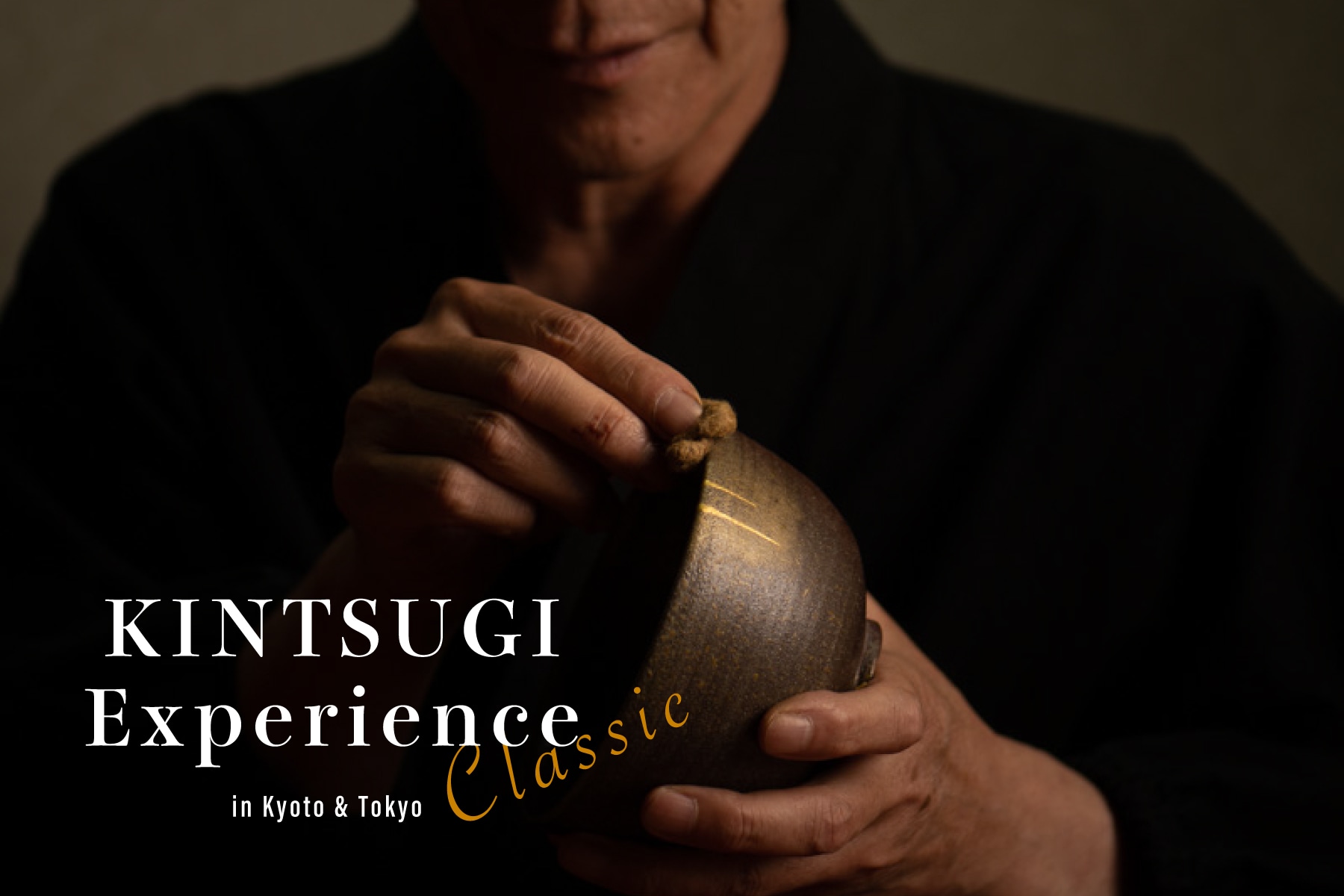 金継ぎ修復のハイライトとなる「金蒔き」装飾の体験に加え、漆の採取方法、金継ぎの歴史、金継ぎ修復の工程を映像やスライドで学べる約90〜120分のコースです。
漆を乾燥させる室(ムロ)の様子や、修復途中の器、金継ぎ作品もご覧いただけます。
京都・東京、どちらの店舗でもお受けいたします。
金蒔きをした器は、後日お手元にお届けいたします(店舗受け取りも可能です)
※金蒔き後、室で硬化をさせるためお届けは1〜2週間後となります
※金蒔きする器は、平安堂京都がご用意いたします(事前に下地処理が必要なためご自身の器の持ち込みはお受けできません)
●概要
料金:16,500円(税込)+ 送料
【重要なお知らせ】金粉や原材料の価格高騰により2023年11月受付分より19,800円に価格を改訂させていただきます。
日程:ご相談の上決定します
人数:1〜5名様 ※6名様以上の場合もご相談ください。
予約:電話・メールまたはお問合せページからご予約ください
   Tel:075-334-5012
   Mail:info@urushi-artisan.jp
You can experience "Kintsugi" decoration, which is the highlight of Kintsugi restoration. This course is a 90-120 minutes course that will show you how to harvest lacquer, the history of Kintsugi and the entire processes of restoring Kintsugi work with videos and slides.
You can also see the Muro where the lacquer is dried, the pottery in the process of restoration and the Kintsugi work.
We offer this course at stores both in Kyoto and in Tokyo.
* After the experience of kintsugi, your work must stay in Muro to dry for a week at least.
The kintsugi pottery will be delivered to you a few weeks after this course. (You can also pick it up at the store).
* HEIANDO Kyoto will prepare a pottery to restore (you cannot bring your own pottery because it requires pre-treatment).
If you want your work sending overseas, contact us first.
● Overview
Price: 16,500 yen + shipping fee *We also accept overseas delivery.
[Notice!] Due to the price hike of gold powder and raw materials, the price will be revised to 19,800 yen from November 2023.

Schedule: Will be decided after consultation
People: 1-5 people *Please contact us if you would like more than 6 people.
Reservation: Reservation required by phone or email or Contact page
  Tel: 075-334-5012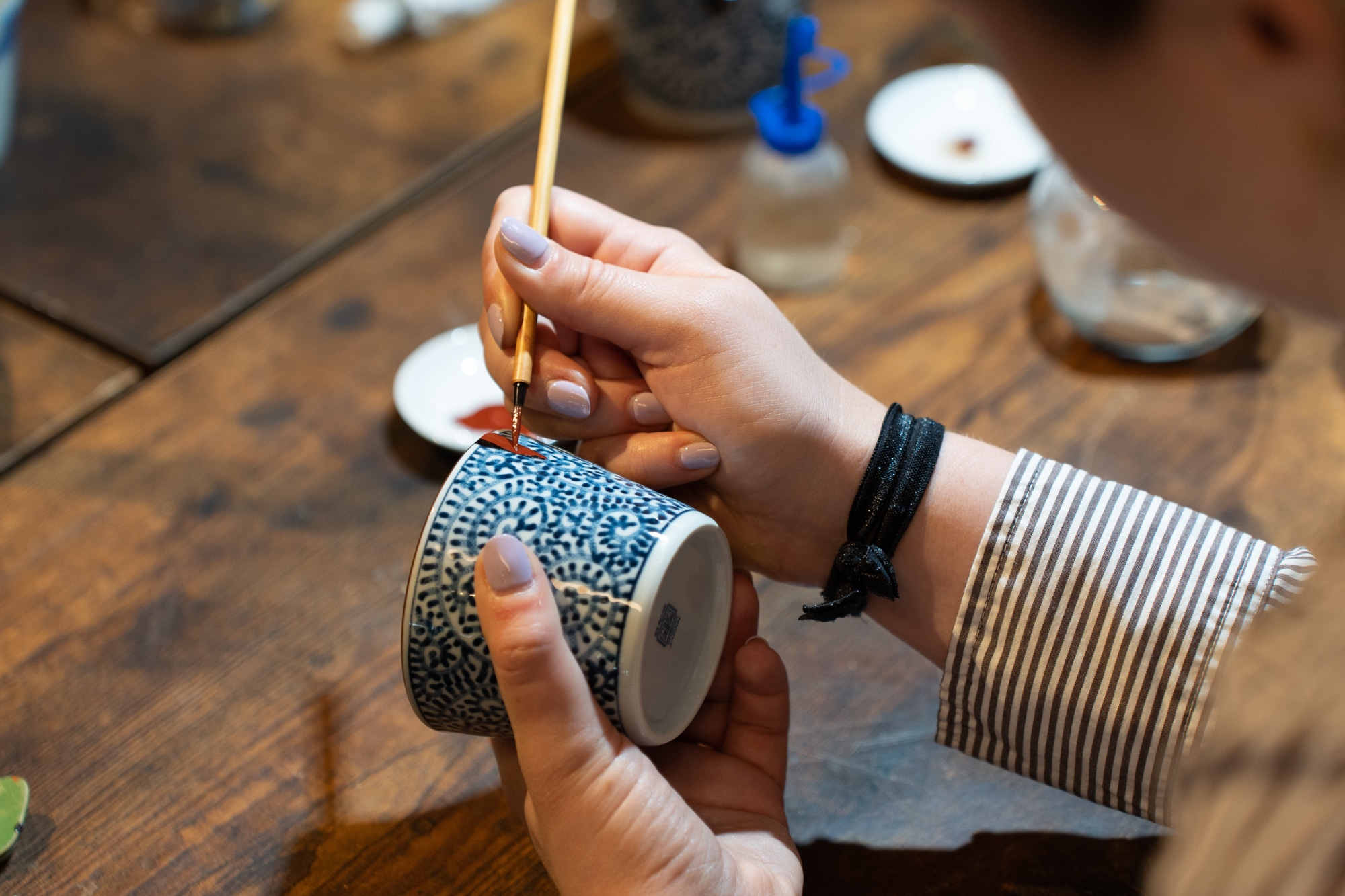 体験では、下地まで職人が仕上げた器に赤色の弁柄漆を塗るところから始まります。
First, you will apply red lacquer with a brush to a vessel that has already had 80% of the repair process completed.

弁柄漆の表面を少し硬化させるために、室(むろ)と呼ばれる乾燥用の木箱に入れ、20-30分待ちます。
The lacquer is placed in a wooden cabinet called a muro, which hardens the lacquer, and you will wait for about 20-30 minutes until the lacquer become half harden.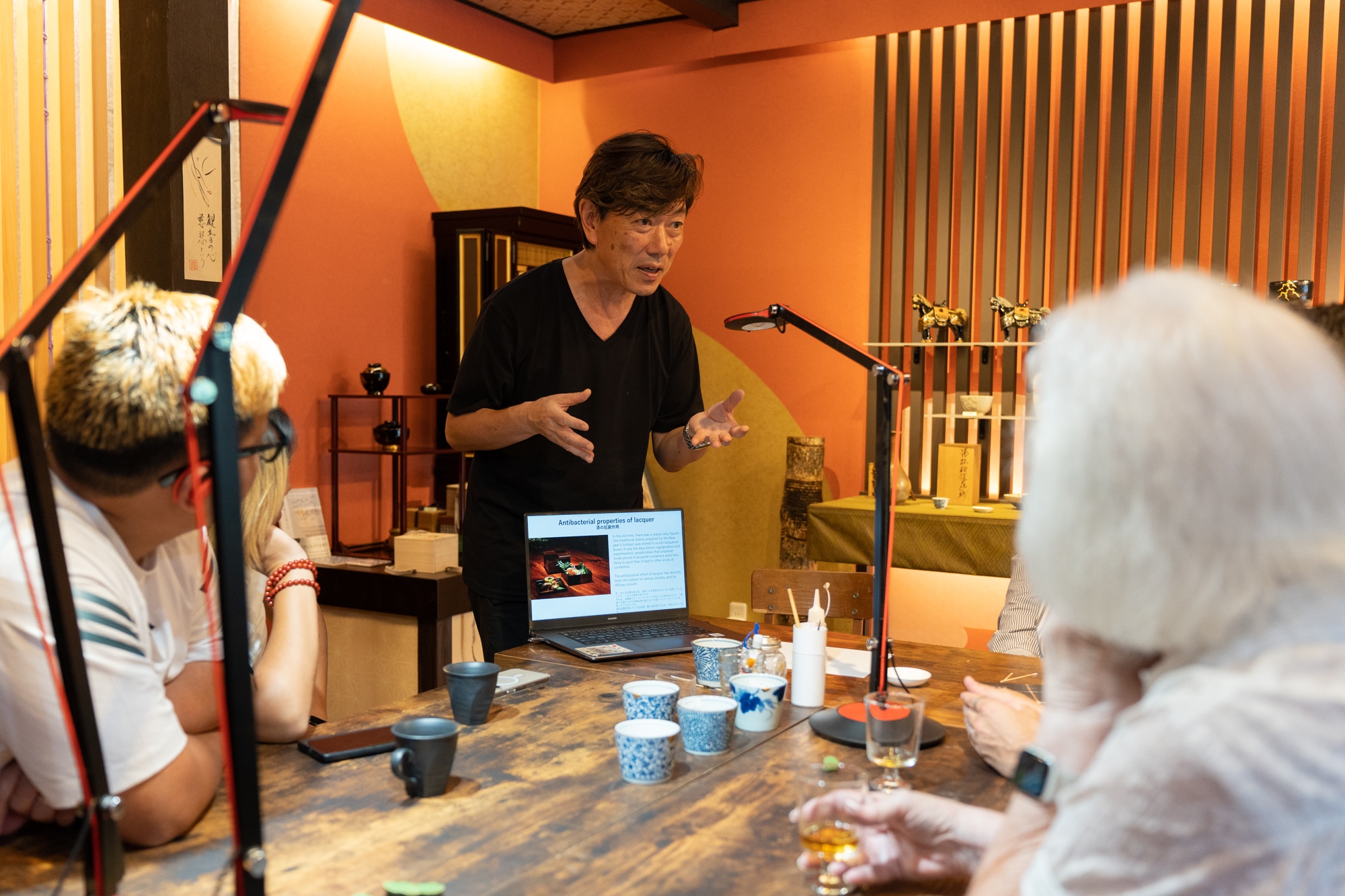 乾燥を待つ間、金継ぎと漆の歴史や特徴について学びます。
The staff will explain the history of lacquer and the process of kintsugi restoration using slides.

いよいよ金継ぎのハイライトである「金蒔き」です。金粉を専用の筆と真綿で慎重に弁柄漆の上にカバーしていきます。
You will try your hand at the highlight of the kintsugi process, the "gold powder decoration.
Japanese gold powder is carefully dropped onto the red lacquer. The gold powder is then polished gently with a cotton cloth to make it shine.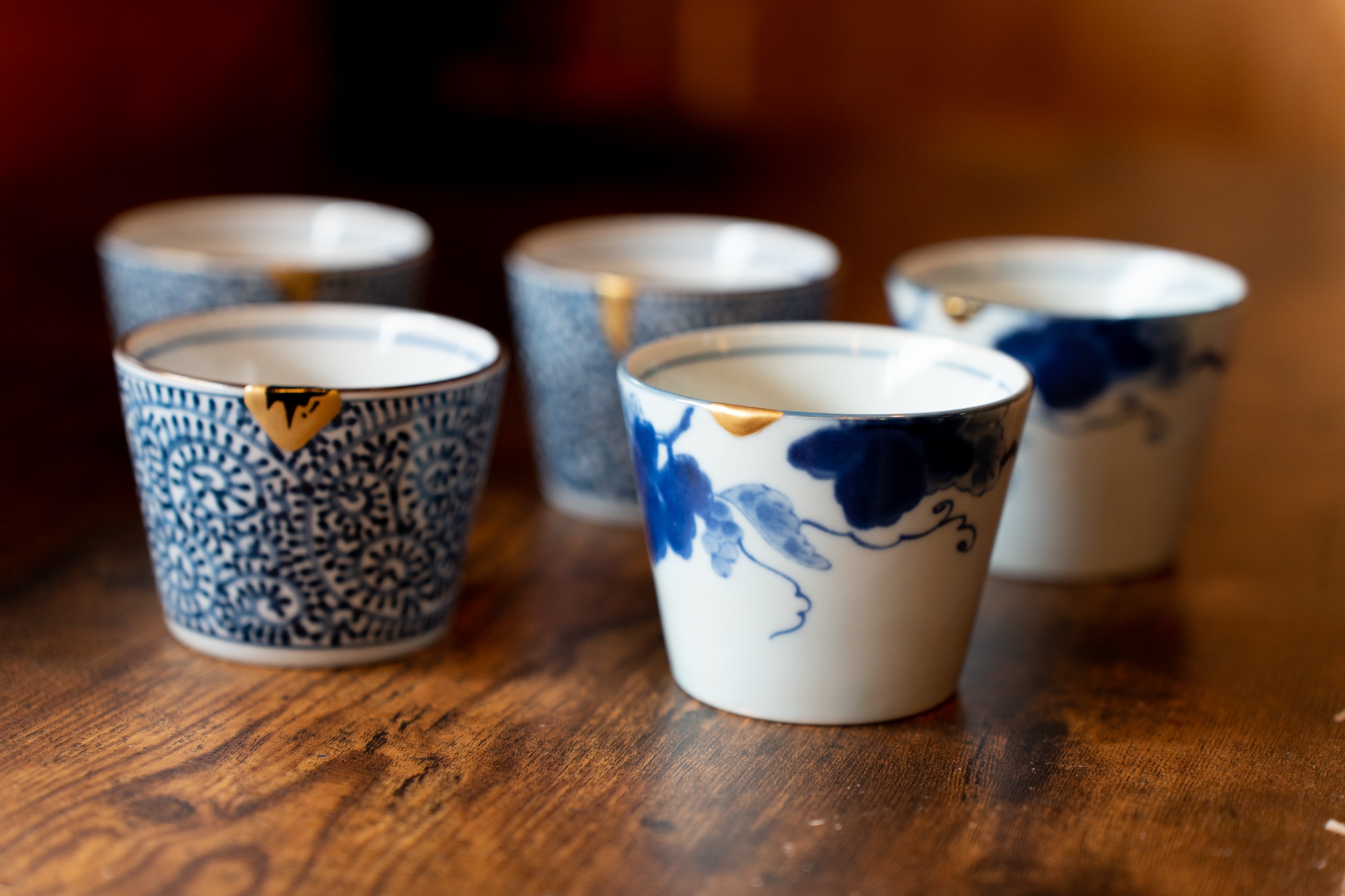 体験後、器は平安堂京都でお預かりします。本物の漆を使った金継ぎでは数日間また室で硬化をさせる必要があるためです。硬化後、スタッフが仕上げの工程を行いようやく完成となります。
After the experience is over, the vessels will be kept for further storage in MURO for a few days until the urushi has completely hardened, after which the staff will perform the finishing treatment to complete the process.