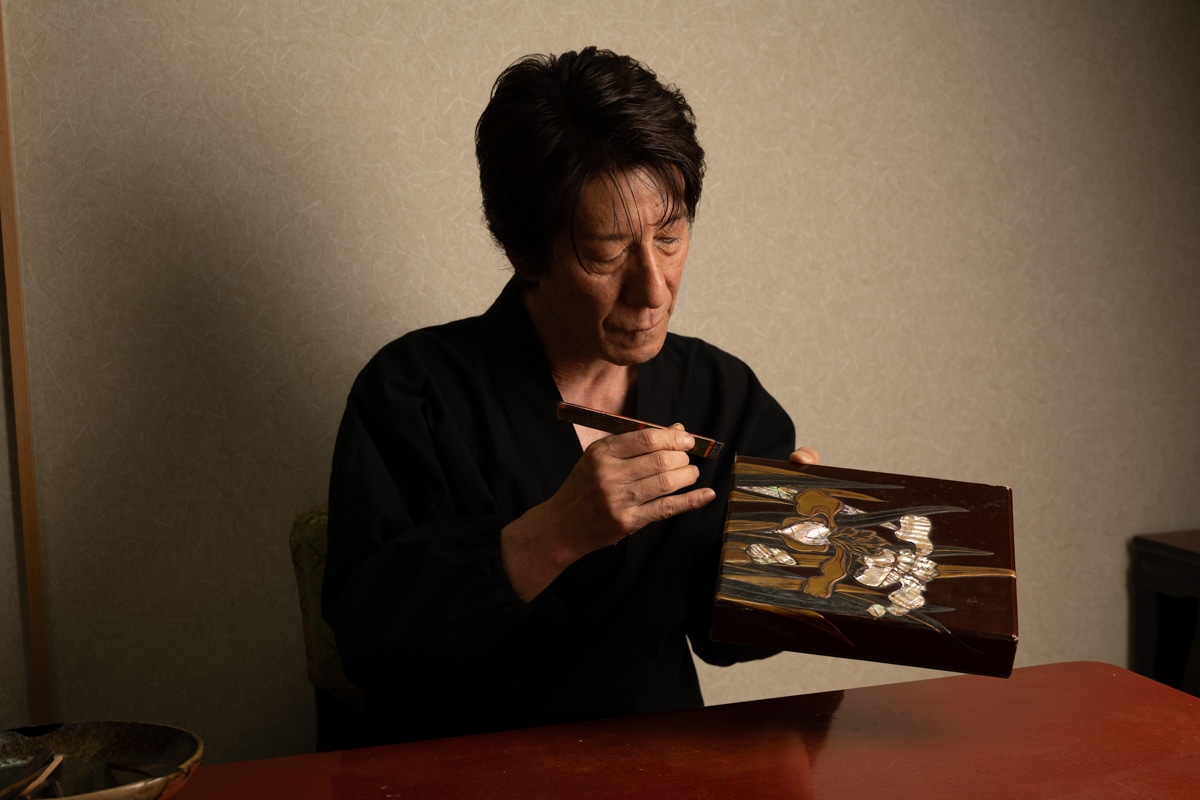 漆芸修復師 清川 廣樹
1957年4月大阪生まれ。
幼少より絵が描くことが好きで美術大学を目指したが、父親が早くに他界したため、高校卒業後、蒔絵師に弟子入りして職人としてのキャリアをスタートさせる。
その後、文化財、神社仏閣、調度品などの修復の一線で活躍する複数の職人のもとで研鑽を積み、28歳で独立。45年間、江戸時代に確立された伝統技法の継承者として、漆を用いた「漆芸」修復に携わる。その対象は、建築、仏像、陶磁器、漆器、アンティーク家具、古美術品など多岐にわたり、学術関係者との交流も持つ。
2015年春より、伝統工法を幅広く紹介することを目的に、京都と東京で金継ぎ教室を主宰し、自然素材のみで行う工法の丁寧な指導と、長年の職人生活で得た知識や様々な経験談を紹介。2017年より現在まで、日本橋三越本店で金継ぎ修復の見積もり会を開催、イギリス公共放送BBC、テレビ東京等のメディア出演多数、雑誌、企業広報等で活動が広く紹介される。また、文化サロンや講演などの仕事にも関わり、京都FM87.0では月1回「金継ぎタイムトラベル」という冠番組を持つ。
2019年7月に株式会社漆芸舎設立、代表に就任。2021年6月にNPO法人「ROLE」を設立し代表理事を務める。企業活動、NPO活動を通じて、後継者作りや文化保持に意欲的に取り組んでいる。
[TV]
イギリスBBC放送 Reel 2020年8月
TV東京 2020年10月19日放映「Youは何しに日本へ?」
     2018年8月20日放映「世界!ニッポン行きたい人応援団」
     2020年8月19日放映「ビデオレター」
その他、読売テレビ、テレビ朝日、フジテレビなどの各局に出演
[ラジオ]
KYOTO FM87.0 2021年4月〜月1回
[雑誌・月刊誌・新聞]
京都新聞 2015年12月23日、2016年12月19日
朝日小学生新聞 2019年5月8日
淡交社「茶道具のつくろい」2019年10月
株式会社ウエッジ「ひととき」2019年2月
ぎょうせい「ガバナンス」2020年9月
日本橋三越「お帳場通信」2020年春夏号
野村証券「包 Wrap-i」2020年1月号 他多数
Lacquer Art Restorer
HIROKI KIYOKAWA
Born in Osaka Prefecture in April 1957.
From a young age, he loved to draw pictures and wanted to become an artist, but his father passed away early, so after graduating from high school, he apprenticed himself to a maki-e artist and began his career as craftsman. Later, he studied under several craftsman who were active in the front line of restoration, becoming independent at the age of 28.
For 45 years, he has been involved in the restoration of lacquerware as an inheritor of the traditional techniques established in the Edo period. His work covers restoration of temples and shrines, architecture, Buddhist statues, ceramics, lacquer ware, antique furniture, and antiques, and he is highly trusted by academics.
Since the spring of 2015, he has held kintsugi classes in Kyoto and Tokyo withe the aim of introducing the traditional methods to a wide range of people. From 2017 to the present, he has held estimate sessions for kintsugi restoration at the Mitsukoshi Department Store in Nihonbashi, Tokyo. and his appeared in many major media outlets such as the BBC and TV Tokyo. In recent years, he has also been involved in cultural salons and lectures, and has a monthly program called "Kintsugi Time Travel" on Kyoto FM 87.0. He opened his current studio in front of the east gate of Daitokuji Temple in the north of Kyoto in May 2014, established Kiyokawa Lacquer Art Co. in July 2019, and established the NPO "ROLE," of which he serves as representative director, in June 2021. Through his business company and NPO activities, he is actively involved in creating successors and preserving traditional culture.
[TV]
BBC BBC Reel "The Japanese art of fixing broken pottery," which premiered August 2020
TV Tokyo "Why did you come to Japan?" broadcast on 19 October 2020
TV Tokyo Special program broadcast on 8 August 2018, in which an Italian lady is invited to Kyoto to learn kintsugi.
TV Tokyo Subsequent conversation with the Italian lady, in a video letter from Milan broadcast on 19 August 2020
Other appearances on Yomiuri TV, TV Asahi, Fuji TV, and other stations.
[Radio]
KYOTO FM 87.0 once a month from April 2021

[Magazines, Monthly magazines, newspapers]
Kyoto Shimbun(Daily newspaper):23 December 2015, 19 December 2016
Asahi Syogakusei Shimbun(newspaper for primary schoolers):8 May 2019
Tanko(monthly magazine)2019 special issue, "Mending Tea Implements":Tankosha, October 2019
Hitotoki(monthly magazine):Wedge Corporation, February 2019 issue
Ochoba tsushin(Nihonbashi Mitsukoshi Department Store newsletter for VIP card holders):Spring/Summer 2020 issue
Governance(monthly periodical): Gyosei Corporation, September 2020
Ho,Wrap-i(newsletter):Nomura Securities, January 2020
and many others
▼イギリスBBC放送 Reel / BBC Reel "The Japanese art of fixing broken pottery"