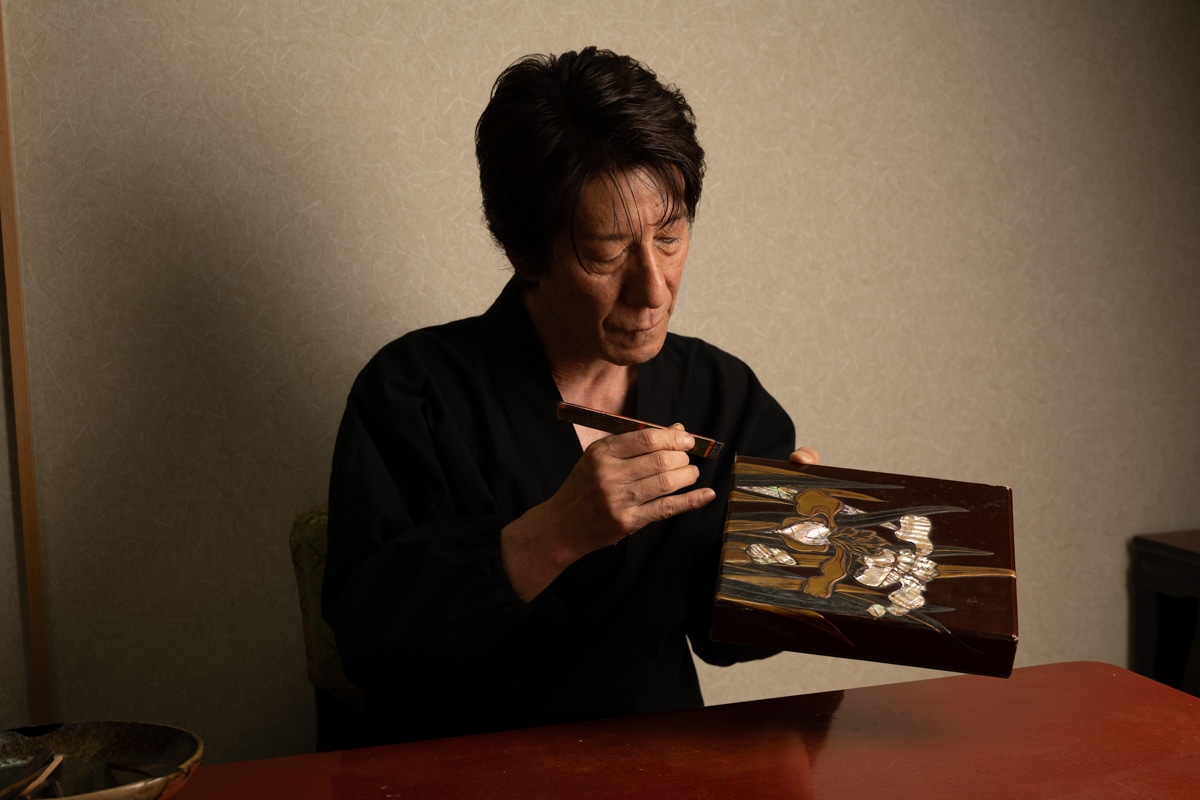 漆芸修復師 清川 廣
株式会社 漆芸舎 代表、NPO 法人ROLE 代表理事。

50 年にわたり、江戸時代に確立された伝統技法の継承者として、漆を用いた「漆芸」修復に携わる。その対象は、文化財、神社仏閣、仏像、陶磁器、漆器、古美術品など多岐にわたり、学術関係者からの信頼も厚い。
伝統工法を幅広く紹介することを目的に、京都と東京で金継ぎ教室を主宰し、長年の職人生活で得た鋭い五感と経験、文化財修復にも通じる自然素材のみで行う卓越した技術が好評を博し、現在100 名近い生徒が教室に通う。
2018 年テレビ東京、2020 年イギリス公共放送BBC, 2023 年NHK World に出演。その他、雑誌・新聞等各メディアで活動が取り上げられる。
2022 年の外務省の招聘でバチカン市国ベネディクト16 世ホールを皮切りに、イタリア各地で公演を行う。
企業活動やNPO 活動を通じて、後継者作りや文化保持に意欲的に取り組んでいる。
[TV]
NHK World DIRECT TALK 2023年10月
イギリスBBC放送 Reel 2020年8月
TV東京 2020年10月19日放映「Youは何しに日本へ?」
     2018年8月20日放映「世界!ニッポン行きたい人応援団」
     2020年8月19日放映「ビデオレター」
その他、読売テレビ、テレビ朝日、フジテレビなどの各局に出演
[ラジオ]
KYOTO FM87.0 2021年4月〜月1回
[雑誌・月刊誌・新聞]
京都新聞 2015年12月23日、2016年12月19日
朝日小学生新聞 2019年5月8日
淡交社「茶道具のつくろい」2019年10月
株式会社ウエッジ「ひととき」2019年2月
ぎょうせい「ガバナンス」2020年9月
日本橋三越「お帳場通信」2020年春夏号
野村証券「包 Wrap-i」2020年1月号 他多数
[講演]

ファエンツァ国際陶磁器美術館(イタリア) 2023年7月
京都芸術大学「京都学」2023年7月

バチカン市国ベネディクト16世ホール 2022年11月
ローマ日本文化会館(イタリア) 2022年11月
ベネチア東洋美術館(イタリア)2022年11月
Lacquer Art Restorer
Hiro KIYOKAWA
Representative of Lacquerware House Inc. and NPO ROLE.

For 50 years, he has been engaged in the restoration of "lacquer art" using lacquer as an inheritor of the traditional technique established in the Edo period. He has been involved in the restoration of a wide range of objects, including cultural properties, shrines and temples, Buddhist, statues, ceramics, lacquerware, and antiques, and is highly respected by academics.
With the aim of introducing a wide range of traditional methods, he runs kintsugi classes in Kyoto and Tokyo. His keen senses and experience gained over many years as a craftsman, as well as his outstanding techniques using only natural materials, which are also common in the restoration of cultural properties, have been well received, and he currently has nearly 100 students attending his
classes.
He will appear on TV Tokyo in 2018, BBC in 2020, and NHK World in 2023. In addition, his activities have been featured in various media such as magazines and newspapers.
Performs throughout Italy, starting with the Benedict XVI Hall in Vatican City at the invitation of the Ministry of Foreign Affairs in 2022.
Through corporate and NPO activities, he has been enthusiastically engaged in creating successors and preserving culture.
[TV]
NHK World "DIRECT TALK" broadcast on 3 October 2023
BBC BBC Reel "The Japanese art of fixing broken pottery," which premiered August 2020
TV Tokyo "Why did you come to Japan?" broadcast on 19 October 2020
TV Tokyo Special program broadcast on 8 August 2018, in which an Italian lady is invited to Kyoto to learn kintsugi.
TV Tokyo Subsequent conversation with the Italian lady, in a video letter from Milan broadcast on 19 August 2020
Other appearances on Yomiuri TV, TV Asahi, Fuji TV, and other stations.
[Radio]
KYOTO FM 87.0 once a month from April 2021

[Magazines, Monthly magazines, newspapers]
Kyoto Shimbun(Daily newspaper):23 December 2015, 19 December 2016
Asahi Syogakusei Shimbun(newspaper for primary schoolers):8 May 2019
Tanko(monthly magazine)2019 special issue, "Mending Tea Implements":Tankosha, October 2019
Hitotoki(monthly magazine):Wedge Corporation, February 2019 issue
Ochoba tsushin(Nihonbashi Mitsukoshi Department Store newsletter for VIP card holders):Spring/Summer 2020 issue
Governance(monthly periodical): Gyosei Corporation, September 2020
Ho,Wrap-i(newsletter):Nomura Securities, January 2020
and many others
[Lecture]
International museum of ceramic in Faenza, Italy, July 2023
Kyoto University of Arts "Kyoto Studies", July 2023

The Benedict XVI Hall in Vatican City, November 2022

Japanese Cultural Institute in Roma, November 2022
Oriental Museum in Venice, November 2022
Urasenke Gakuen Tea Ceremony College, October 2022

▼イギリスBBC放送 Reel / BBC Reel "The Japanese art of fixing broken pottery"